School of Sanctuary
Our School of Sanctuary Journey
February 2022 – Saint John Wall signed the organisational pledge to become a School of Sanctuary.
Follow our school Twitter account (@SAINT_JOHN_WALL) and check our weekly newsletter for regular School of Sanctuary updates.
We have worked alongside some fantastic charities and organisations who have supported us in our journey to become a School of Sanctuary, they are:
St Chad's Sanctuary
Stories of Hope and Home
Churches together in Britain and Ireland
City of Sanctuary
Amnesty International
What is a School of Sanctuary?
A School of Sanctuary is…
Is a place of welcome for all.
Educates about why people are forcibly displaced.
Recognises that the UK is enriched by new arrivals.
Supports pupils from all backgrounds to feel seen, supported and included.
Becoming a School of Sanctuary allows us to…
Meet the requirements of the Equality Act 2010.
Imaginatively re-engage with required curriculum areas such literacy, language arts, geography, history, humanities.
Develop our Social, Moral, Spiritual and Cultural education and 'British Values'.
Build a school culture that reduces intolerance, hate speech and bullying.
Increase pupil voice and promoting active & engaged citizenship.
Engage with our families and strengthening the school's role in the local community.
Improve the provision of English as an additional language in school.
Help improve pupil outcomes and attendance - students that feel safe and included will be more likely to attend schools.
Promote well-being & community cohesion by building empathetic school environments.
We want to become a School of Sanctuary because…
We pride ourselves on being a Catholic School for All where pupils of all backgrounds, cultures and faiths feel safe and welcome in our community.
We are a diverse school where over 50 different languages are spoken in our school community by our pupils and staff.
We place the pupils at the centre of our teaching and learning through Quality First Teaching – ensuring that our teaching and learning meets the needs of our EAL, PP and SEN pupils.
We have a specialist leading EAL department that supports refugee children with rapidly learning English.
All staff are committed to supporting new pupils with their emotional and social development, alongside academic learning.
Year 1 2021 – 2022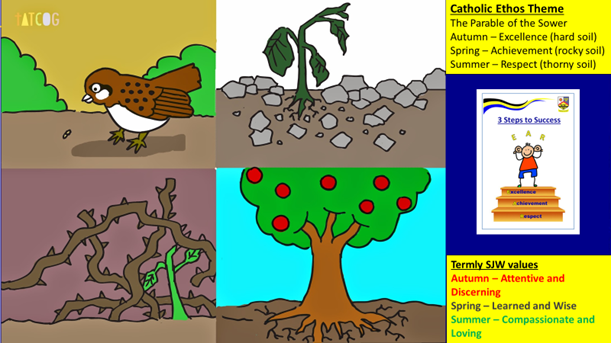 This year, our Catholic Life theme focused on the Parable of the Sower. The aim of this theme was to ensure that Saint John Wall is 'good soil' for each and every unique child in our school to be able to grow and develop. We looked at barriers that can get in the way of our growth and discussed ways in which we can overcome them.
Saint Chad's Sanctuary:
December 2021 began our journey to become a School of Sanctuary as we started our strong relationship with St Chad's Sanctuary. St Chad's Sanctuary is a place of welcome for Asylum Seekers and Refugees in the heart of Birmingham. It works to make people welcome through the provision of practical support, English classes and signposting.
St Chad's Sanctuary were the focus of our staff Advent Appeal. Our pupil leadership group visited the Sanctuary to take our donations. We also collected for our local food bank which many of our families make use of.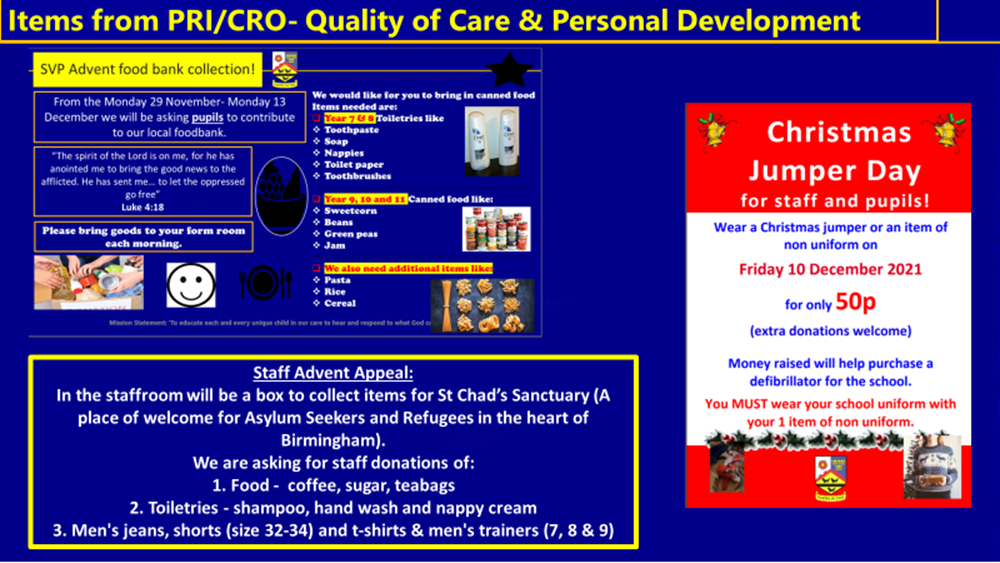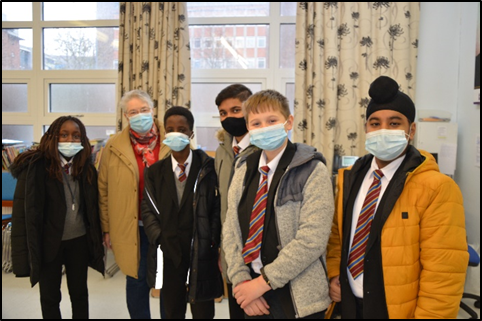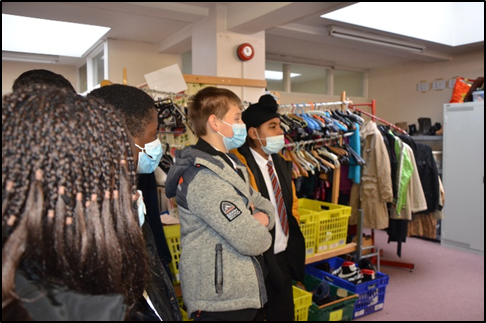 In February 2022, we signed the organisational pledge. We formally launched School of Sanctuary with our staff during our weekly briefing.
EAL department trip:
Our EAL team took our EAL pupils in February (including refugee pupils) to the University of Worcester for a taster day – ensuring that they too are offered opportunities to access higher education in the future.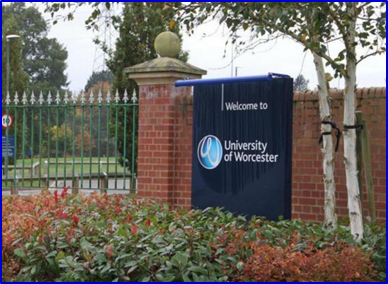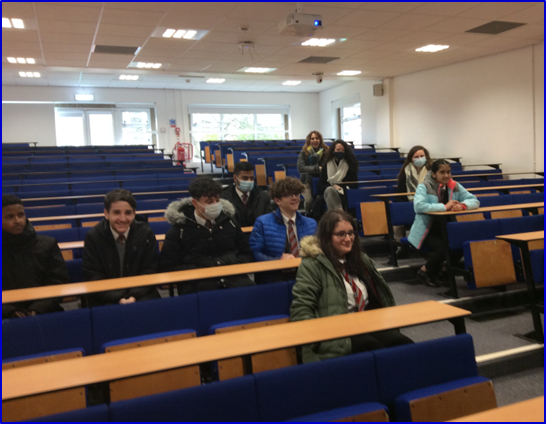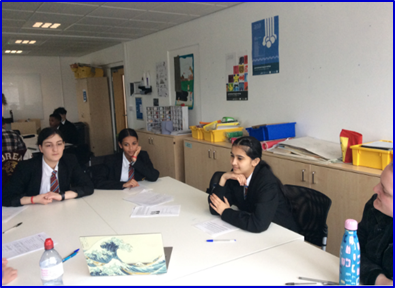 Support for Ukraine
Throughout February and March, we supported the people of Ukraine following the invasion of Russian forces. We worked with local organisations to ensure that the people of Ukraine received appropriate resources and supplies to continue to live their lives.
On Ash Wednesday 2022, we held a day of prayer for Ukraine in our school Chapel.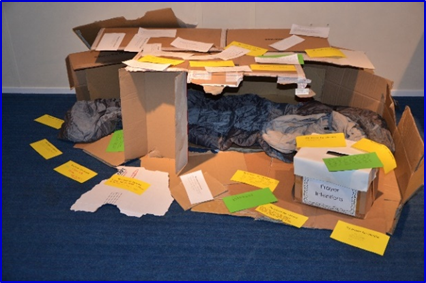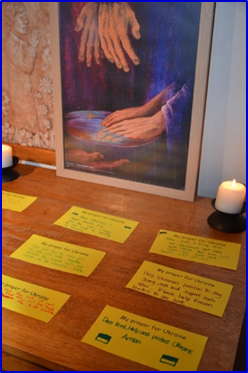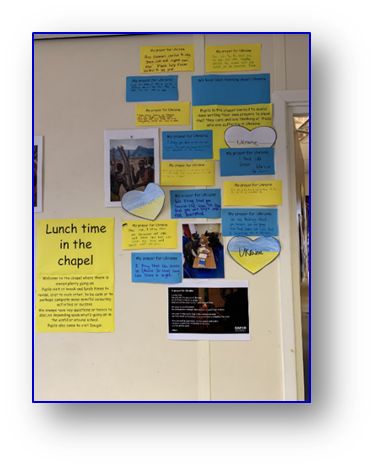 We also raised £250 through our 'Wear Yellow or Blue' day.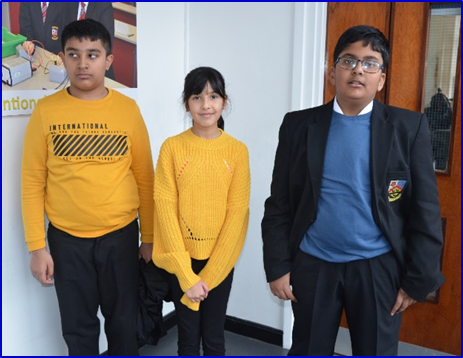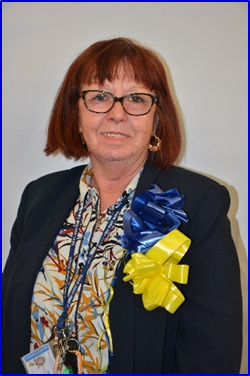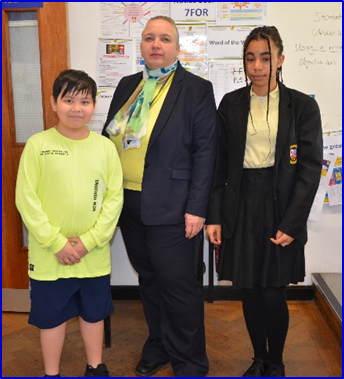 Solutions Not Sides
Solutions Not Sides are invited into school on a yearly basis to talk to our Year 9s about the conflict in the Middle East. The pupils were able to listen to Laura and Sharon, our visiting speakers, explain the history and root of the conflict between Palestine and Israel. Pupils listened to two videos showing the lives of two civilians affected by the conflict. These two civilians then dialled into the session via Zoom and our pupils were lucky enough to ask them questions about their experiences. It is very rare to have this opportunity and our pupils rose to the challenge asking some thought-provoking questions about what is happening in the Middle East. These questions included: 'How do you think the media contributes to this conflict? 'Why do countries fund these armies when it is clear the conflict should stop?' and 'How are you fighting for peace?'.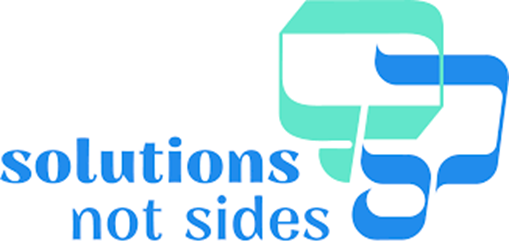 Passion Service 2022
Our passion service theme this year was of 'Jesus the refugee.' Our Year11 Prefects and Year 10 House Captains delivered the service to pupils in their form rooms. We had a wonderful drama and dance piece performed as part of the service.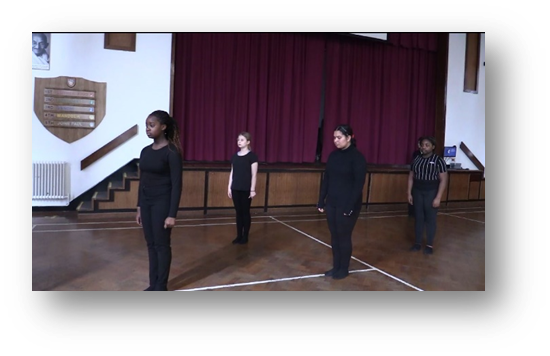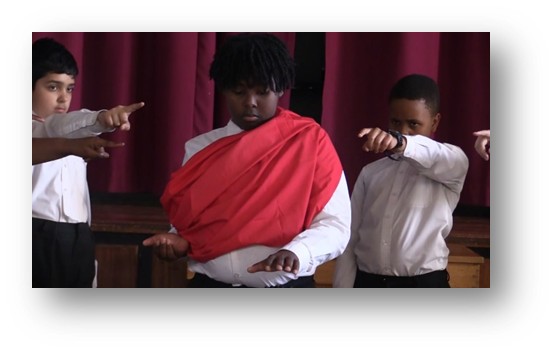 Stories of Hope and Home
Year 7s had the opportunity to listen to testimonies from asylum seekers and refugees who came to visit St John Wall. They described some of the difficulties they have faced on leaving the dangers of their country, and travelling to the UK. Pupils were given the opportunity to ask questions and reflect upon how we treat those who have had to leave their homes due to the dangers they have faced.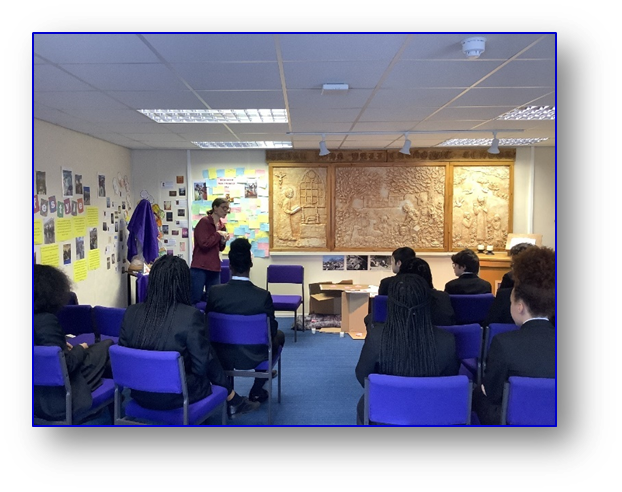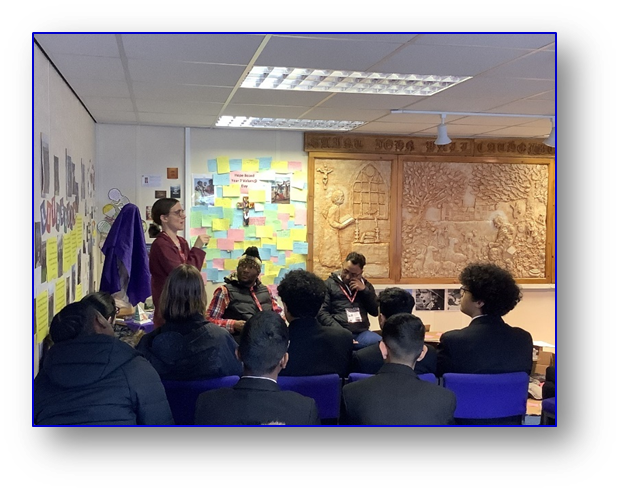 Year 7 trip to St Chad's Sanctuary
12 pupils from Year 7 visited St Chad's Sanctuary this week to learn more about the work that they do to support refugees and asylum seekers in Birmingham.
Abigail Martin, Project Manager for St Chad's Sanctuary said 'I am writing just to say how lovely your school groups have been. The children are delightful, full of enthusiasm and compassion. The volunteers and I look forward to their monthly visits as they are so joyful. Thank you for bringing them!'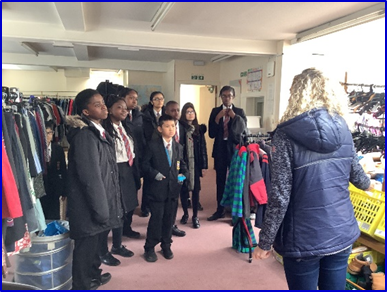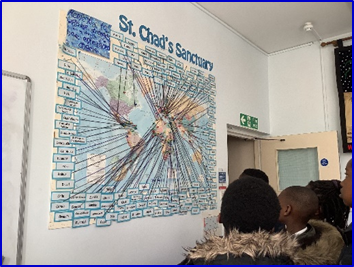 Sanctuary Team launch
Year 7 were offered the opportunity to apply to be part of the Sanctuary Team in 2022-2023.
The Sanctuary Team will work towards encouraging those who are new to our school family to feel safe and welcomed. The role includes becoming a 'buddy' to our new Year 7's in September, as well as looking after others who come to our school throughout the year. The Sanctuary Team will also reflect upon the theme of 'who is my neighbour?' building on what Year 7 pupils have learned and explored from St Chad's Sanctuary on the refugee crisis.
Stories of Hope and Home bake sale
Following visits from Stories of Hope and Home, our House Captains and pupil leadership team wanted to arrange a cake sale to support the charity. We raised £200 for Stories of Hope and Home.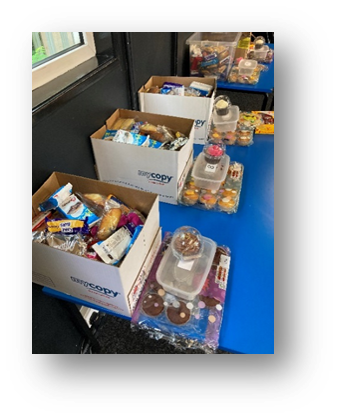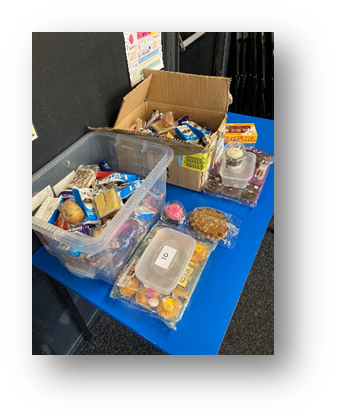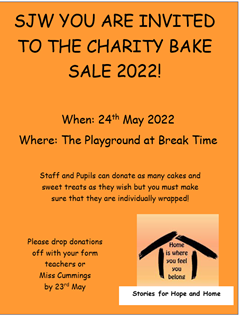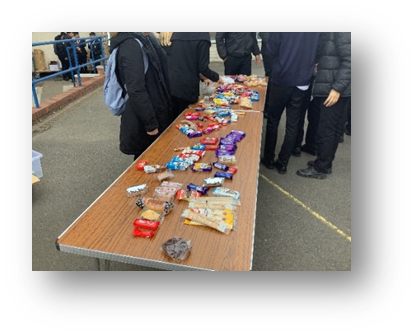 Another trip to St Chad's Sanctuary
On Friday, pupils from Year 7 visited Saint Chad's Sanctuary to learn more about the work that they do in our local area for those seeking asylum and refuge. Pupils were amazed at the work that went into looking after those more vulnerable than us, and took on board the message of Jesus when he asked us to 'love thy neighbour.'
Our pupils had this to say about their visit:
"We should donate more food and clothes to help people in need because lots of people go every week to get things they need, but there isn't enough to give everyone. There are so many families in need." By Harrum Sajid 7GRE
"What we did was we took a tour of St Chad's Sanctuary. We talked about how people go there to get food and clothes. All the food is gone, because so many people need it."
By Erika Dovleag 7HAY
"If we donate food we can help people in need. Anything can help. You can help by donating food, giving clothes, toiletries or shoes. If you donate, more people can be helped."
By Rayna Jassal 7GRE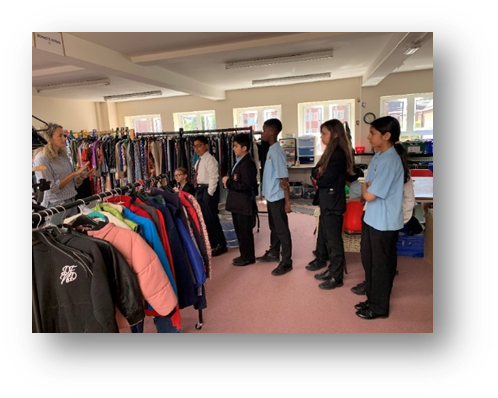 Refugee Week 2022
Day of Prayer for Refugees
Pupils took part in a special day of prayer, focusing on refugees worldwide. We had a wonderful service in the Chapel and reflected especially on the countries of refugees that have been helped by St Chad's Sanctuary.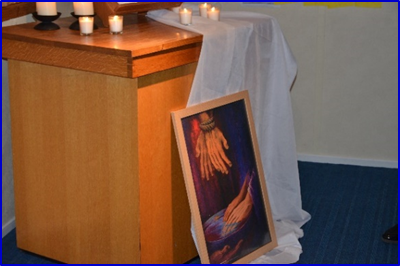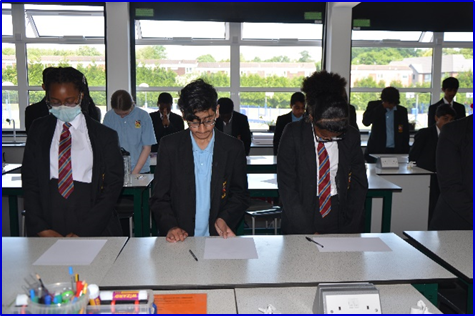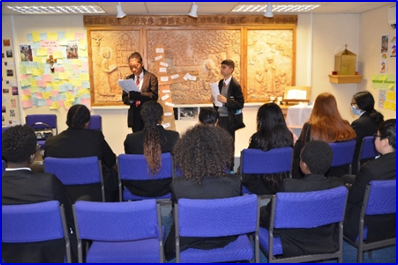 Arts and Crafts club
As part of Refugee Week, our Arts and Crafts club created 'doll houses' reflecting a time when they felt isolated. As discussion grew it turned to the isolation felt during the lockdown and the rooms in which we stayed to keep safe. Our pupils empathised with those around the world who weren't so lucky to have a safe place to stay during this time.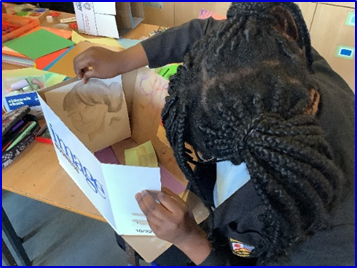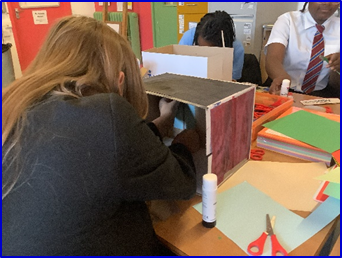 Reading Relay
On Thursday, Year 8 and 9 pupils took part in the third SJW Reading Relay. At the beginning of every lesson, they were lead in discussion and reading of the opening of 'The Crossing' by Manjeet Mann. Mann's verse novel tells the story of two teenagers; Natalie, who finds sanctuary in swimming after losing her mother, and Sammy, who is fleeing Eritrea after the death of his father. This book was chosen to align with Refugee Week and provided another avenue of discussion and reflection on the experiences of refugees. We are so proud of our pupils who engaged with the difficult subject matter of the text to access values of compassion and love.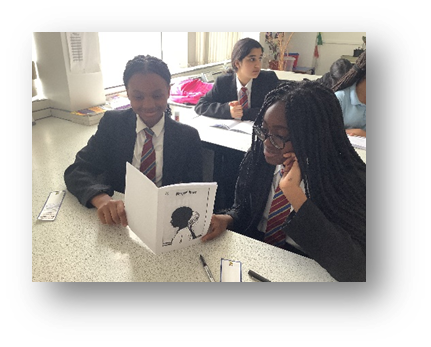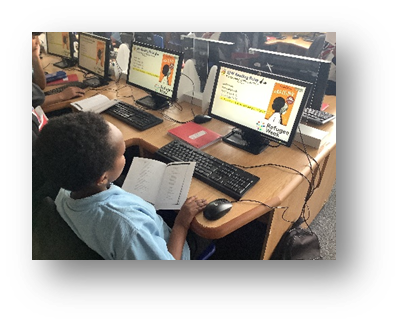 Across the Curriculum
Our newsletter shows some fantastic examples of Refugee Week across the curriculum. Check it out on our school website, there are some photos below to show the fantastic work our pupils did to celebrate Refugee Week.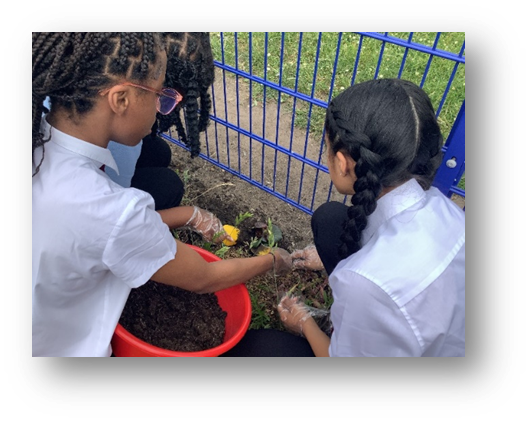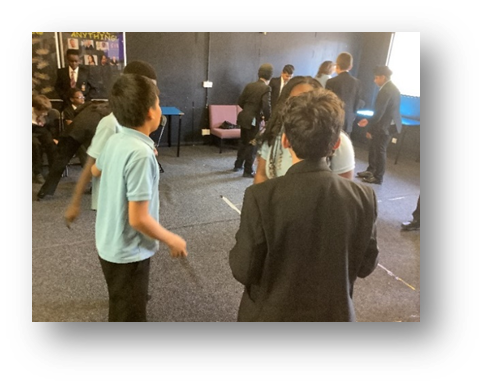 We also launched our end of term appeal for Saint Chad's Sanctuary: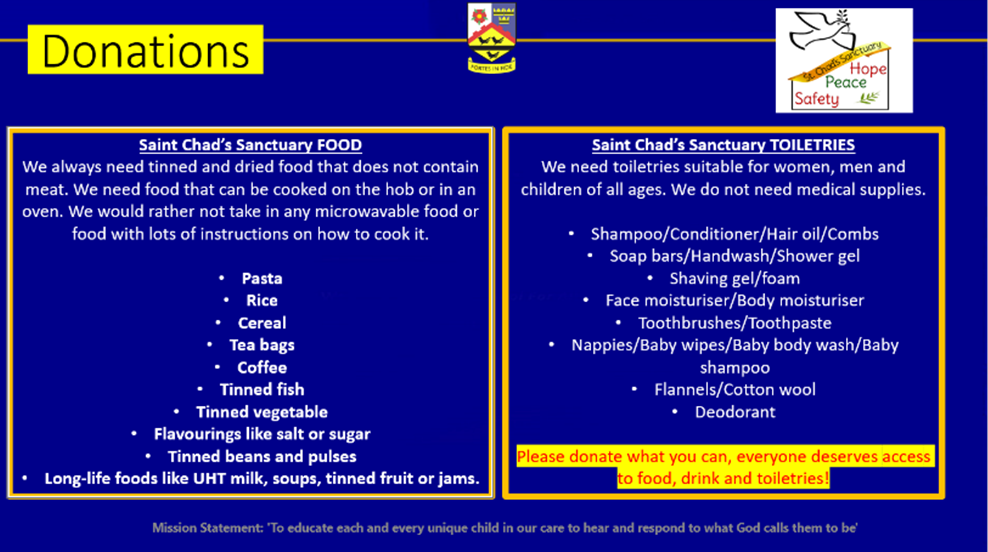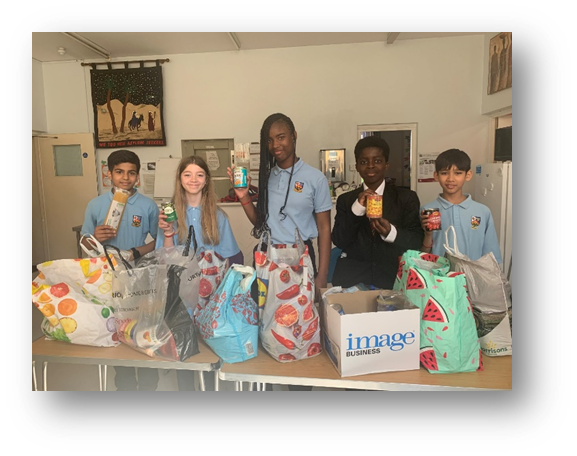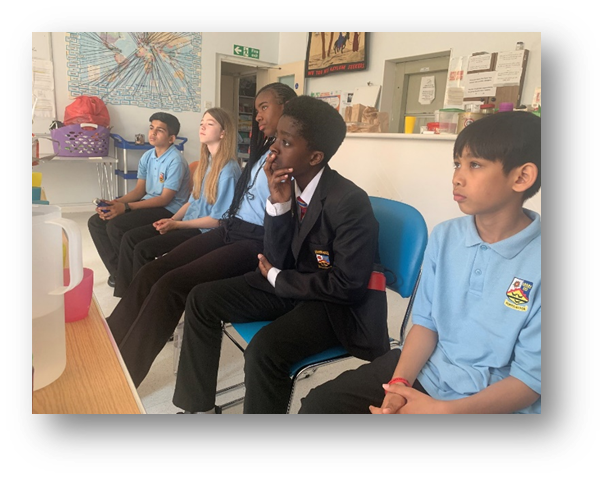 SMSCV Day
We welcomed our regular visitors from Stories of Hope and Home as part of our SMSCV Day.
They were joined by Millicent Chapandi from Celebrating Sanctuary who led an Afrikan Fusion workshop.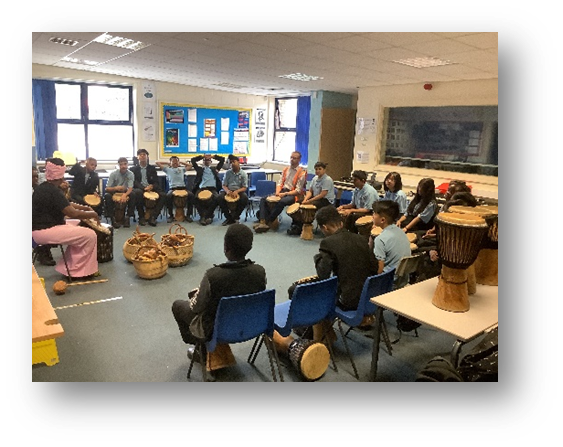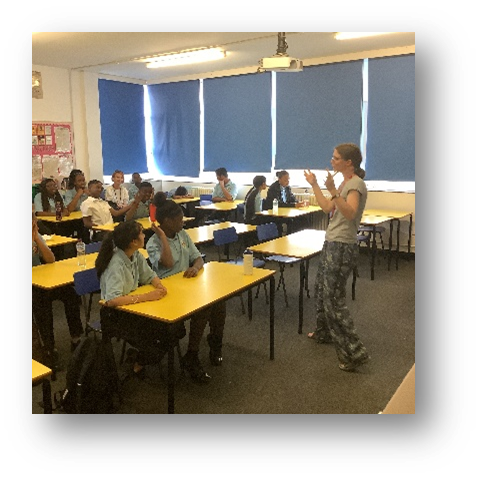 Year of Sanctuary 2022-23
In September 2022, we launched our Year of Sanctuary. A Year dedicated to ensuring that St John Wall is a safe and welcoming place for all, no matter who they are. The particular focus here was on welcoming refugee pupils.
Each term, we took a parable to focus on which linked in with the School of Sanctuary award. These matched our Catholic Social Teachings on solidarity, peace and option for the poor.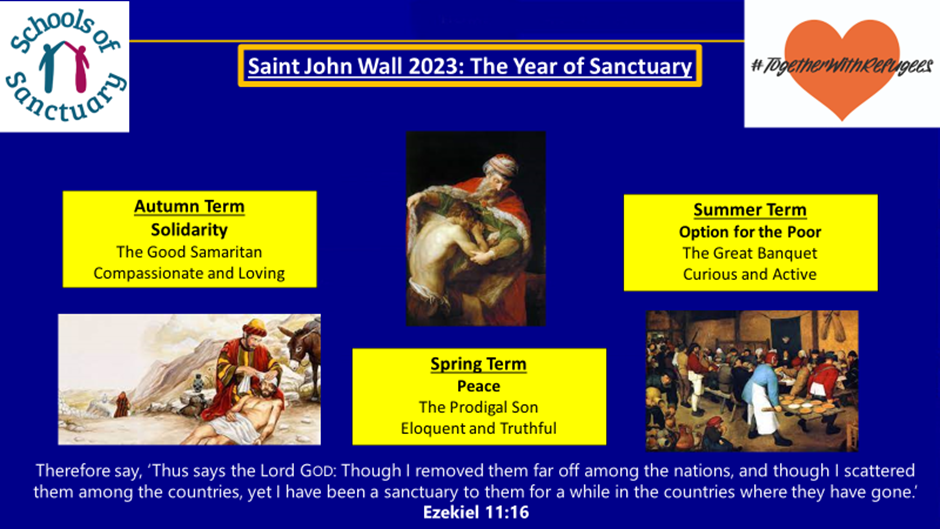 We also launched our uniform drive, asking our families to donate any old uniform which could be given to pupils who need it the most, including refugees.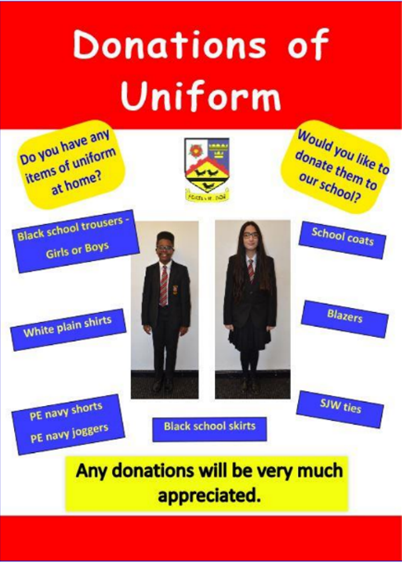 Refugee Day of Action
At the end of September 2022, we also launched two initiatives. These were our Street Food Sale for Pakistan following the floods there – many of our pupils have family/friends in the area.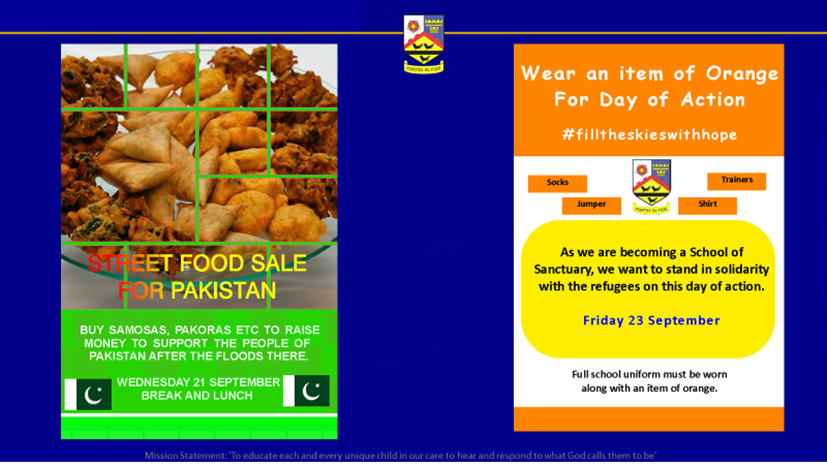 We also celebrated our first Refugee Day of Action by wearing orange, a colour closely linked to refugee campaigns.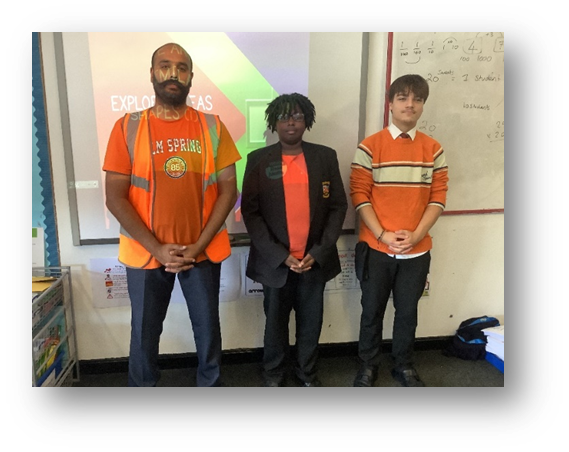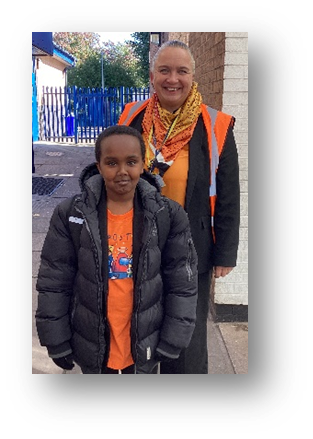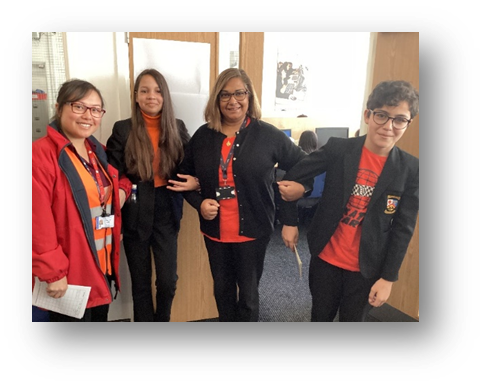 Our Sanctuary Team led the way with this campaign, by creating their orange heart-shaped paper planes with messages to the new Prime Minister, to demonstrate broad support to end the cruel scheme to send refugees to Rwanda.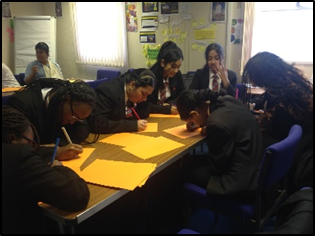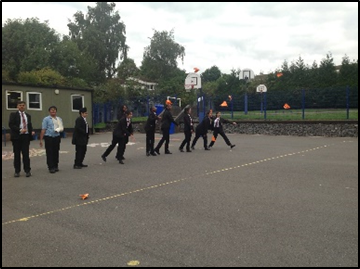 Free afterschool clubs
We also worked with Bouncing Statistics to offer a free afterschool club for our pupils most at need, this included a free hot meal in the evening.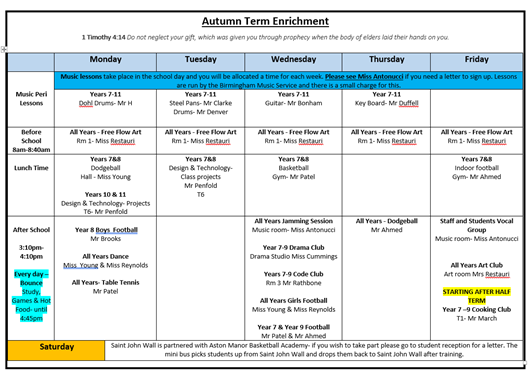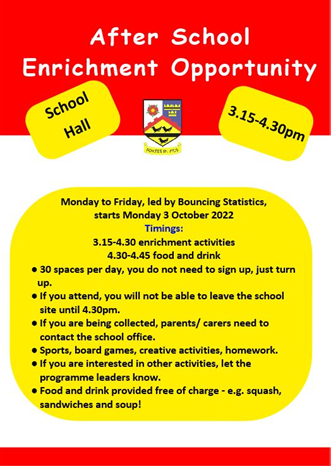 European Day of Languages
To celebrate our diverse Catholic School for All, we acknowledged European Day of Languages.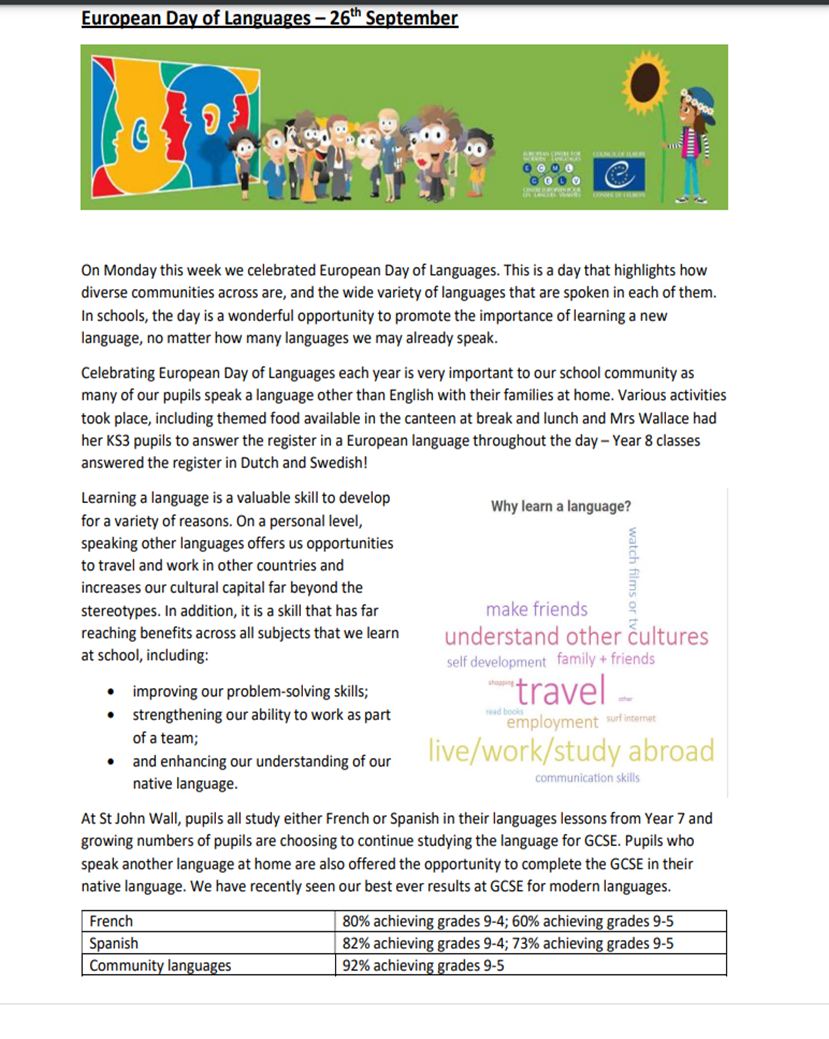 Saint Chad's Sanctuary visits continue…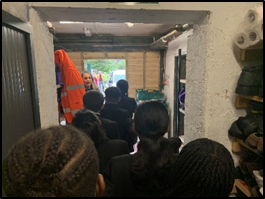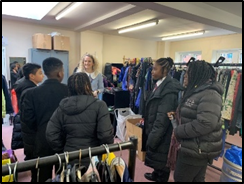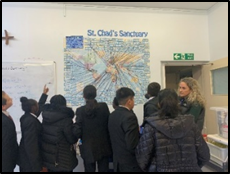 Black History Month and Cultural Heritage Day
Throughout the month of October, we focused on Black History Month across the curriculum. The focus for Black History Month was 'A Time for Change: Action Not Words'. We linked this to the scripture passage: 'If one member suffers, all suffer together; if one member is honoured, all rejoice together.' (1 Corinthians 12:26).
This passage reminds our pupils that as a school, we stand in solidarity with all those who suffer prejudice, discrimination and persecution for who they are including refugees.
Cultural Heritage Day is an annual celebration of the many different cultures we have in St John Wall.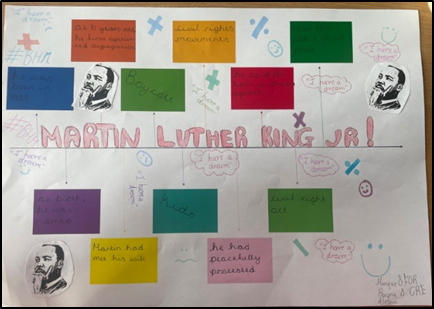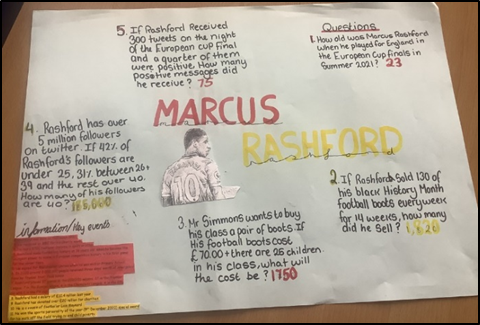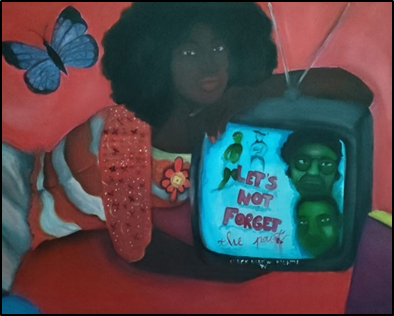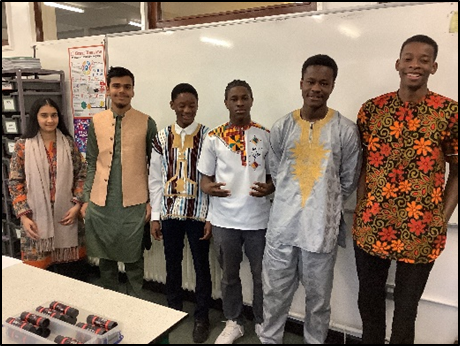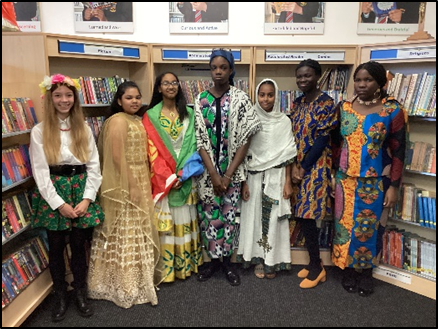 Kenelm Youth Trust
This week, we welcomed the Soli Team from the Kenelm Youth Trust who contributed to Black History Month by focusing on the theme 'Who am I?'. Our pupils spent the day discussing their culture, their identity and how they can respond to what God calls them to be. Pupils had fun playing different games and completing Team building activities to get to know each other better, building inclusivity, friendship, respect and tolerance for all.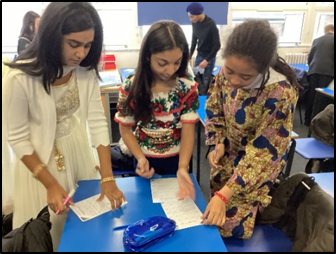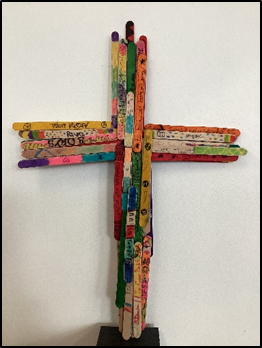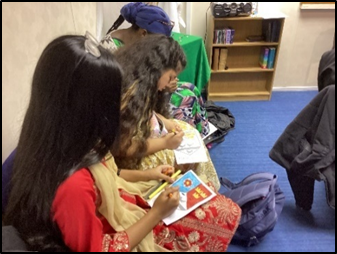 Safe, Just, Wise
Our Safe, Just, Wise button on the desktop is available at all times to pupils and staff to use if they are concerned about themselves or others. This includes availability for those who have suffered trauma who are in need of support.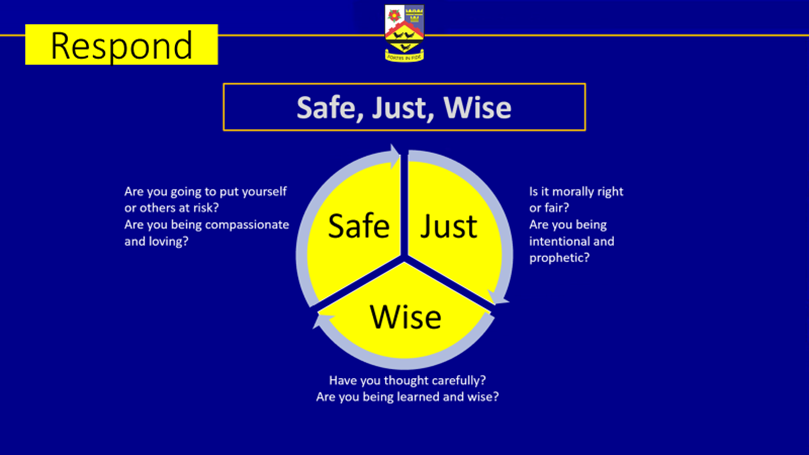 Signposting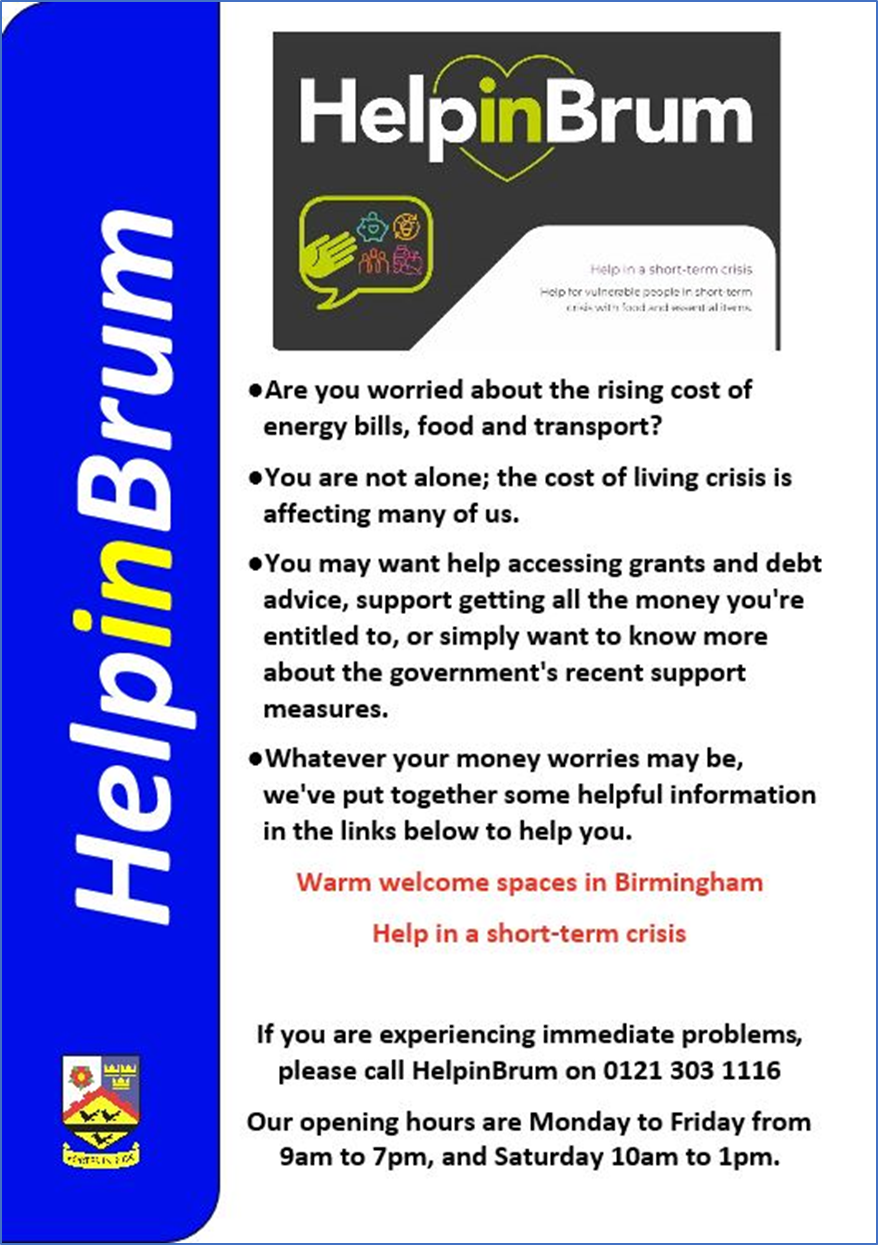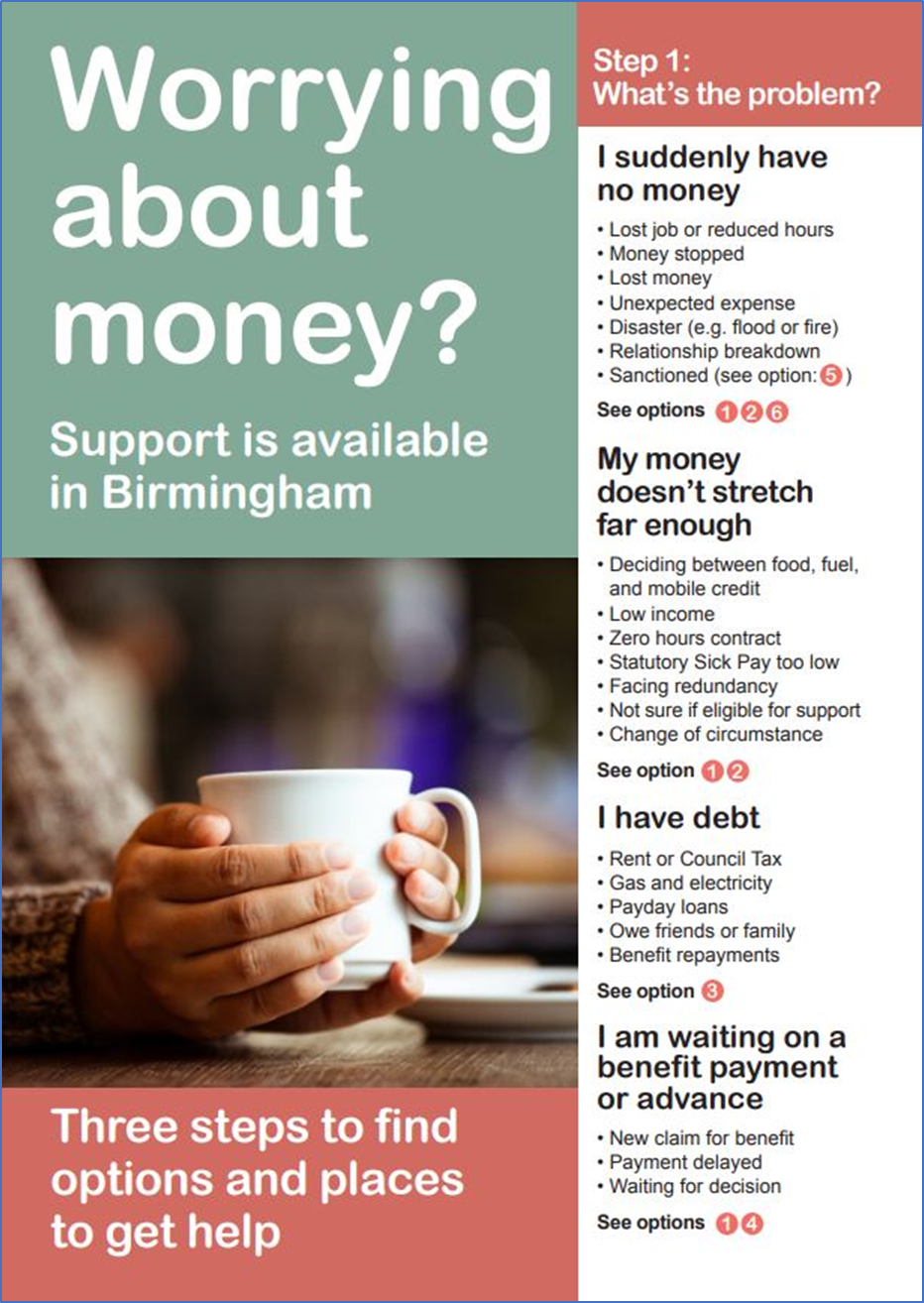 Anti-Bullying Week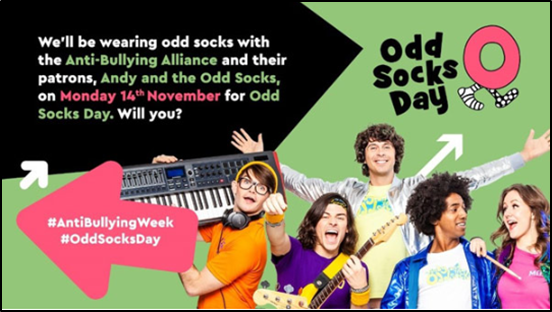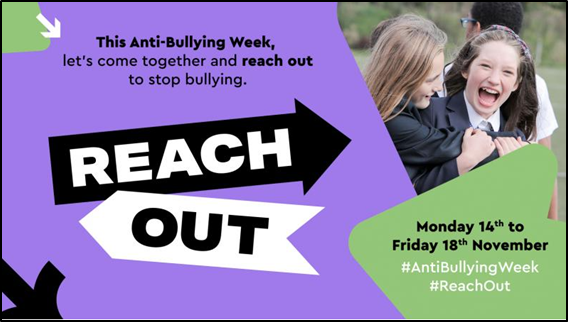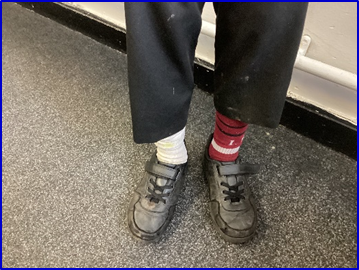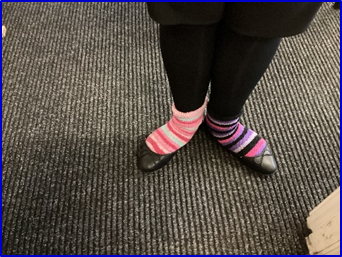 International Migrant Day
Pupils in Year 8 have been exploring International Migrant's Day together. We came together and read a short piece on what International Migrant's Day is and why it is important to celebrate it. As a group, the pupils spoke about the importance of the local Community, specifically thinking about who and what is in our local Community. We then discussed examples of migration that we see every day, remembering that it takes a community to make our home. These examples were put into a paperchain by the pupils.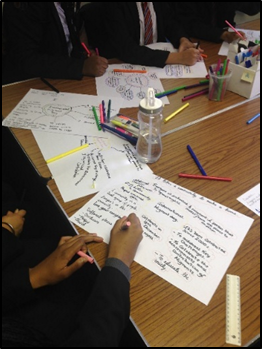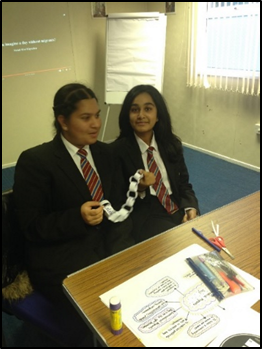 Advent Appeal
A busy term ended in our Advent Campaign collecting items through our Reverse Advent Calendar. These items were donated to SIFA Fireside and St Chad's Sanctuary. Over 700 items were collected!