School Prayer & School Badge
Dear Lord,
We ask of you to help each and every unique child to become educated in our school.
We also ask of you to hear and respond to each and every prayer of the students in our care, we ask you to guide them to what God calls them to be.
We pray that our pupils become learned and wise and are grateful for your love, support and generosity.
Saint John Wall
Pray for us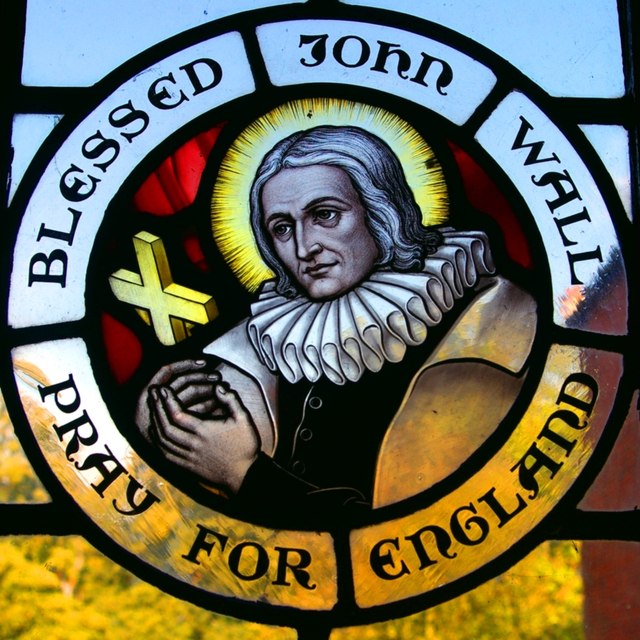 School Badge
The school badge is made of 4 sections: The Rose Section, The Crowns Section, The Red Chevron and The Birds Section. These sections represent principal periods of the life of Saint John Wall.
| | |
| --- | --- |
| | This Section shows the Rose of Lancaster. This refers to Saint John Wall's birth and boyhood in Lancashire. |
| | The three crowns are taken from the arms of Douai College where Saint John Wall first studied for the priesthood. |
| | This represents Redhill upon which St John Wall shed his blood - hence its colour. The embattlement design is taken from the coat of arms of the Yate family who owned Harvington Hall. |
| | This is an adaptation of thee arms of Worcester where Saint John Wall worked and finally met his death on the scaffold. The birds refer to his membership of the Franciscan Order of priests and the golden field represents the many people St John Wall helped to believe in God. |
| | 'Fortes In Fide' is the motto of our school. We are asked to follow the example of our patron saint and remain 'Strong in Faith' even when things seem really difficult. After all St John Wall was a martyr - he died for his faith. |