Cost of Living
We are a Catholic School for All, we pride ourselves on supporting all members of our community through life's challenges. Our SJW Values remind us to show all people love, compassion and generosity. We wish to ensure that all our families have what they need to keep their children safe and happy. Below is information about the current support available to our families through the cost of living crisis. There are also some helpful web links at the bottom of the page.
Please see our weekly newsletter for additional signposting and support.
Free School Meals
I would like to introduce to you a new facility that we are now implementing in school for Parents/Guardians of our pupils, which will enable you to find out if your child is eligible for Free School Meals.
All pupils currently receiving Free School Meals will need to register again online. This will only need to be done once for each child.
This new system is online and can be accessed by clicking here. It is simple to register and the site is very secure. If you have problems accessing a computer, we can help you here in school.
ADVANTAGES:
For Pupils
Provides a meal where in some cases a meal would not be provided therefore increasing performance.
Removes embarrassing situations with free school meal applications at school as no proof will need to be seen again.
For Parents/Carers
Offers a faster, simpler, and more convenient application process.
Delivers instant notification of entitlement.
Reduces application errors through computer assisted validation.
Removes the need for reapplication where eligibility continues.
Removes stigma as face-to-face meetings will no longer be required for application.
Please see the documents below for your information and assistance to accessing the online form. Should you require any further information, please do not hesitate to contact Ms Chohan on 0121 554 1825.
Important Documents
Travel Assistance
Applying for free school travel assistance - click here
Supper Club
This year we are working with Bouncing Statistics to offer an enrichment club every evening after school. This includes the opportunity for our pupils to participate in additional sports activities, play board games, request support with their homework and receive a hot meal. This is being provided free of charge to all pupils. The club runs from 3.15pm until 4.45pm. If your child wishes to attend, please ask them to speak to Mr Price or Mr Holder.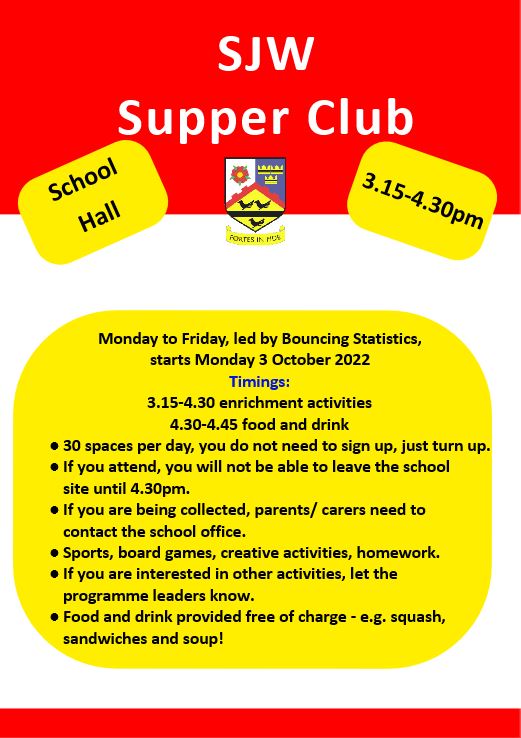 The SJW Pantry
As a community this year, we have collected items for the SJW Pantry. Located in our Chapel, this includes non-perishable food items included tinned food, pasta, rice, biscuits and more. The Pastoral team will identify pupils and families who may benefit from additional food items. If you require this type of support, please contact your child's Head of Year.
School Uniform and Coat Provision
Many of our families have donated uniform to the school for us to loan out or provide for other families - thank you if you have done this. If you need support with uniform, please contact your child's Head of Year.
We have also received a generous donation of new school coats. Our Pastoral Team, along with Form Tutors, have identified pupils in need of a new coat for the winter.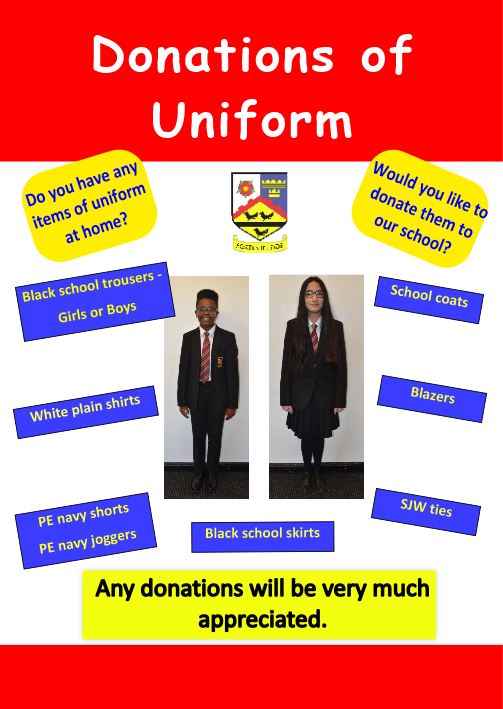 Local Charity collections
Alongside our work for global and national charities, we also support local organisations who work with some of our families.
Click the links below to see some of their amazing work in the local area.