Careers
Our Mission Statement is:
'To educate each and every unique child in our care, to hear and respond to what God calls them to be'
Careers Education, Guidance and Employability play an important part in the lives of pupils at Saint John Wall. The aim of our programme is to live out our mission statement by providing pupils with skills and knowledge to make wise and informed choices regarding their next steps, and to prepare them for the future vocation to which God is calling them.
As we support pupils in their education journey we provide aspiration and guidance about post 16 education and training in vocational (BTEC and Apprenticeships) and academic (A Level) subjects. We also ensure pupils have work-related experiences, employer talks and visits to gain an idea of career opportunities and types of employment.
We have a careers section in our Learning Resource Centre that includes a range of prospectuses from Universities, Colleges and Sixth Forms. We are members of the Birmingham Careers Hub, and we employ an independent Careers Advisor.
The Next Steps Careers Map below shows a visual representation of the learning pupils should experience at Saint John Wall through our Careers programme.
The programme is reviewed yearly using the Compass+ tool and pupil online evaluations to ensure it is kept up to date, and that appropriate providers are visiting school and sharing information impartially and effectively.
Our Careers Leader at Saint John Wall Catholic School is Mr Lloyd-Price
Our Careers Advisor at Saint John Wall Catholic School is Tina Smith
Contact Details: 0121 554 1825
Email: careers@sjw.bham.sch.uk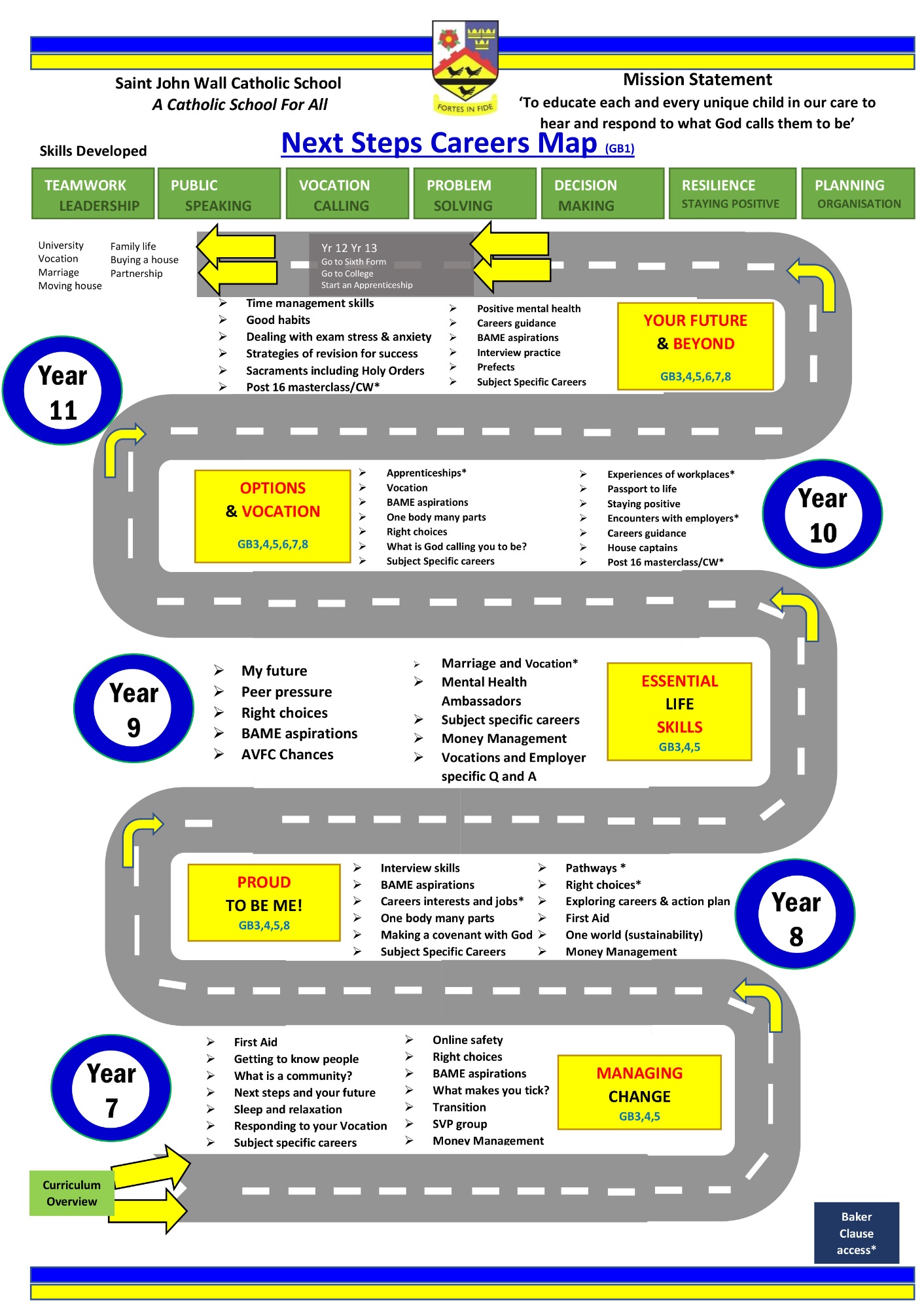 Year 7
Year 7
To strengthen motivation, aspirations, and attainment right from the very beginning of our Year 7s journey at Saint John Wall Catholic School, we invite each pupil to whole heartily participate in our careers programme. During this academic year this entails an opportunity to rediscover themselves in a project that focuses on 'All about me' reflecting on our mission statement 'what is God calling me to be?' and work alongside 'Talk the Talk' who encourage pupils to hone their skills in oracy, leading to more confidence in their communication skills. Pupils will also learn vital life skills such as First Aid, healthy eating, management of their social, emotional, and mental health, and stewardship through their Lifestyle Lessons.
Year 8
Year 8
In Year 8 pupils are beginning to consider their pathways subjects. To prepare them for this next step on the journey to their vocation, pupils will have the opportunity to discuss their skills and personal qualities in form. Form activities will provide pupils with the opportunity to develop their understanding of the options process through forward-planning and the identification of direct links between skill sets, subjects, and careers.
All Year 8 pupils will have the opportunity to have an interview with the school's independent careers advisor and the qualities they learn will be developed during cross-curricular vocation themed days throughout the year enabling them to grow and develop from year 7 in thinking about 'What is God calling me to be?' from our school mission statement. As this year's Catholic Life Focus is 'Parable of the Sower' so we will be focusing on Excellence in Autumn, Achievement in Spring and Respect in the Summer term.
In an addition to our Lifestyle lessons, we have now introduced understanding basic First Aid as well as having targeted Literacy and Numeracy sessions alongside life skills, healthy mind, and healthy body. Year 8 are also learning about Democracy, Crime and Law, Money Matter and Employment this will support pupils to develop and learn new skills needed for the future.
Year 9
Year 9
The start of Year 9 is a new chapter of our pupils' secondary school journey as they have chosen their option subjects!
Pupils will have had thoughts into thinking about what career or vocation they are interested in. But if not - there are be plenty of opportunities during this academic year for our pupils to have time to reflect and plan for the future.
In living out our mission statement 'each and every unique child' pupils are not a one size fits all. We all have different interests and skills and opportunities will be made available for pupils to explore this further. There will be time in form to discuss what skills are needed for the type of jobs pupils want to do when they are older by watching videos and completing a varied programme of activities.
We invite pupil to look at this website www.prospects.ac.uk/planner to make an account on there and investigate different career choices.
We are already planning for colleges, visitors and workshop leaders to come into school specific around the topic of careers and vocations. If you request extra support, we can try to arrange interviews with careers advisers, to further support your journey in education and beyond.
Year 10
Year 10
As pupils start their second year of studying option subjects they will have the opportunity to take part in various activities both inside and outside of school. They will be able to visit colleges for taster days to enable them to think about post 16 education. There will be sixth form colleges leading collective worship to the year group explaining what they can offer. It will also be possible for pupils to go on trips to enrich their knowledge of different career options. Post 16 education providers and employers will hold a careers fair within school for pupils to be able to ask questions and find out more information about what is available to them when they leave school. It is vital, year on year that our pupils have opportunities to reflect on our mission statement specifically focusing on 'What is God calling me to be?'
Year 11
Year 11
In Year 11 pupils are on the home stretch. As we fully prepare our pupils for their next steps they are further supported with careers information and post 16 opportunities. Careers programme supports and builds on the extensive opportunities provided in Years 7-10. Year 11 are the priority for independent career interviews. They meet with a qualified, independent careers adviser for a one to one interview. The rota is decided initially based on assessment results and pastoral observation. In these meetings Post 16 options are discussed as well as routes into Higher Education. In work training and vocational courses are also discussed with pupils who wish to enter work sooner.
Multiple talks on post 16 education are provided by local and catholic sixth forms. These take place during collective worship and on cross-curricular days. Colleges are invited into school to meet the pupils and where possible our pupils visit colleges and sixth forms to help inform their choice. The open days for post 16 are shared as soon as they become available and are publicised. This happens throughout the year. Deadlines for sixth form and college applications are well publicised.
Pupils also take part in cross curricular days that focus on CV writing and mock interviews to prepare them for post 16 interviews as well as participating in a careers fair and mock college interviews. We support all our pupils to reflect on their next steps and where their pathway takes them specifically celebrating 'What God is calling them to be'.
For our Careers Education Information Advice and Guidance CEIAG Policy - click here
Website Links:
Learn Live
For meaningful encounters with employers please click on the following link to find out more.